After we check in, we prepared ourselves on snorkeling trip on that morning too . . . There were five of us on the boat. Two passengers were

Americans

and we had a nice trip with them.
I presented the marine fishes pictures that I shot before this. I'm so excited to see the fishes crowded around us when we throw the bread.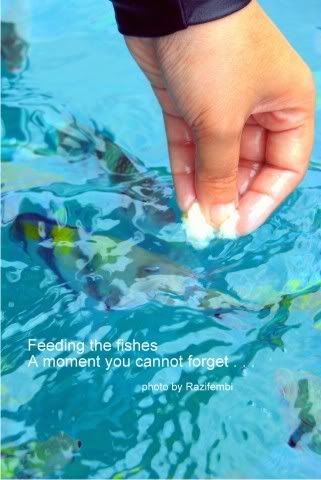 It's so beautiful . the sea's

glimmering

with sunlight . colorful fishes swim around . the sea breeze whispered slowly my cheek . heaven on earth .


If not mistaken, there were

4 point of snorkeling trip

such as

turtle bay, shark bay, coral point

and

fish garden

. If you decide to take this package it will around

RM45.00 per pax

and it will take aroun

2

or

3 hours trip

.... worth it. Really . . .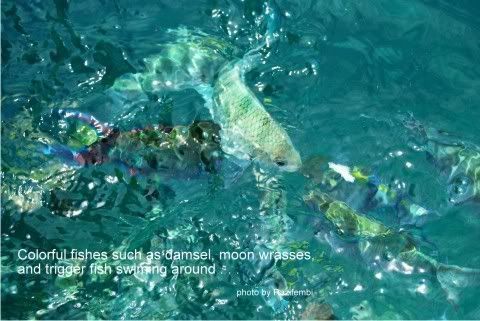 Some of the fishes I saw before were the fishes that I kept in the aquarium. Before this I am a

marine keeper

. Fishes such as

four stripes damsel, wrasse and giant clam

all in front of my eyes in their natural habitat. Only one word can describe all those creatures and beautiful nature.

Amazing
!!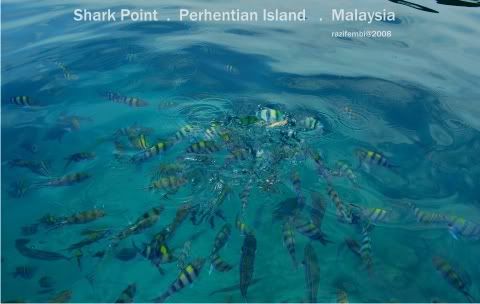 Fish Garden Point- Fat

and

Energetic

fishes moving around searching for food.

Once a time a go, Pulau Perhentian was a place for fisherman to have a

cover

or

temporary shelter

from a bad

weather

or

storm

. Since that, this island got his name, Perhentian. Perhentian in English means

stop

. So that was the story I hear and read. Please correct me if I'm wrong and I don't want to spread a false story.


If you realized, there were

light green

and

dark area blotch

in this picture. It was because the sand under the sea were white. The white sands reflect the light and produce the light green color that you can see in the picture. While the

dark area

were the

coral barrier blotc

h

. In this area, I found many

black sea cucumber

.
This creature

eat the sand that polluted with dirt

. Might be because of that the sand here were too clean and white...just my guess...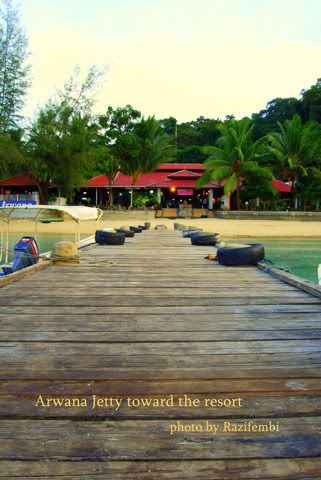 This is our room. Superior type, got one masterbed and two single bed. I'm

satisfied

with the room facility but when it comes to

meal occasion

. . . I quite

disappointed

with served meal and the taste were so bad.

The first day dinner . . . what do you always

hope

and expected from the dinner buffet? a lot of variety

food

,

cakes

,

drinks

and

dessert

serve?



NO !!

... there were only a

cold fried rice

with nothing inside it and

fried "beehoon"

. That all. Huhhhhh ... gave a

bad impression

for my first dinner. I gave only

one star

for food occasion here. Really really

bad

.
That all for my first day in Pulau Perhentian.



I enjoyed snorkeling very much,





I enjoyed the scenery of the Island's





I was welcomed here nicely



but the food spoil a bit of my

dream

. . . I have a colorful dream ... how about you?It's in color also?




This is the PRICE LIST in Perhentian Island for 2008




Dear reader, this is the

price list referrer

and you can make a

comparison

for which accommodations you would like to stay.
There were certain things you should

think

before

choosing

the resort you like :
1. The

resort locatio

n

:
Better you check this out because in some resorts location, there is

no coral spot

near the beach. Mean, you either must take a boat to reach the coral spot. This will increase your

budget.

If your resort location got coral spot, then during the free time, if you have a time you can just borrow the

snorkel gadget

,

life jacket

and the

fringe

for

RM 5.00 each

for

a day

, and you freely just dump in the water nearby or the coral spot in front of your resort.

Need to know where is the Coral Spot Area....please don't hesitate to ask me.

2.

Happening

or

Peaceful Resort Area?


This is another important thing for you to think. Got places that is so happening and full with visitors and some were peaceful, calm, few visitors and relaxing. Make your own decision...

and don't to ask the local or the resort ...



3. Food ... Food ... Food ....


Sometimes after meal occasion at the hotel or resort that can make you got

"

pening" because the food

price is high

, then sometimes you need and must find the

local food restaurant

. There were many

local stalls

and restaurants in island that

taste better

from the food at the resort.

For the

muslims

, they might conscious about their

halal

food. I found out certain resort cafe or restaurant served alcohol and the food itself, that I'm too curious to take such as at the

Tuna Bay

restaurant . But the place there is nice.